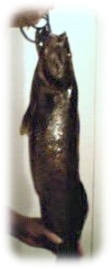 Package 4: Learn to Ice Fish
Have you always wanted to learn how to ice fish? Join us!

This is a special package for those interested in learning how to safely and effectively catch fish during the cold winter months.

Learn the tools of ice fishing and how to build a wind shelter, safely cut a hole in the ice, choosing and setting bait, and catch and release or gutting and fillet of fish. As well, you will learn some basic first aid, ice safety, and how to safely build a fire on the ice.
Click here for rate information.
Click the button at the bottom of this page to make a booking or contact us for more information...